Hair Color: brownEye Color: hazelHeight: 5''9
Languages:Mother Tongue: English (American)Familiar with: Danish, different dialects: British, Irish, French, Southern, etc.
Biography
As literary director and company member of the Scandinavian American Theater Company, Vanessa appears in numerous Off-Broadway cutting-edge Scandinavian plays, most recently: My Name is Susan (2022), Pippi (2021), Kinder K(2018), The Baroness (2017). Her award-winning voiceover career includes film and television animation as well as over 200 audiobooks. In film, Vanessa's resume includes lead roles in 'Sharks in Venice' (2008) and the Danish movie 'Skavengers' (2012).
Vanessa graduated from Carnegie Mellon University and studied acting at the American Academy of Dramatic Arts in New York.
Born and raised in NYC to an American mother and Danish father she straddles both cultures artistically.
Curriculum Vitae
Film
2012

| | | | |
| --- | --- | --- | --- |
| Skavengers | Lead | Nikolaj Tarp | Zeitgeist |
2008

| | | | |
| --- | --- | --- | --- |
| Day of the Dead | Supporting | Steve Miner | Millennium Films |
| Reservations | Ensamble | Aloura Charles | Altogether Alone |
| Sharks in Venice | Lead | Danny Lerner | Nu Image |
| The Objective | Supporting | Daniel Myrick | Jaz Films |
2007

| | | | |
| --- | --- | --- | --- |
| Terra | Supporting | Aristomenis Tsirbas | Menithings Prod. |
2006

| | | | |
| --- | --- | --- | --- |
| Shifted | Lead | Michael Madison | Nelson Madison |
Short films
2020

| | | | |
| --- | --- | --- | --- |
| Screentime | Lead | Vanessa Johansson | Panorama Production |
Theater
2022

| | | | |
| --- | --- | --- | --- |
| My Name Is Susan | Claire | Jason Beckman | Victor Borge Theater |
2020

| | | | |
| --- | --- | --- | --- |
| Pippi Longstocking | Annika | Jenna Hoffman | Online performance |
2019

| | | | |
| --- | --- | --- | --- |
| Kinder K | She | Zishan Urgulu | The Studio Theatre |
2017

| | | | |
| --- | --- | --- | --- |
| A Long Trip | Younger Woman | Joan Kane | T Schreiber Studios |
| The Baroness | Benedicte Jensen | Henning Hegland | Clurman Theater |
2015

| | | | |
| --- | --- | --- | --- |
| The Currency | Diana | Will Steinberger | C.O.W. Theater |
| Bastards of Strindberg | Miss Julie | Alicia D. House | Lion Theater |
| All Is As It Should Be | Ensemble | Sarah Cameron Sunde | Victor Borge |
2014

| | | | |
| --- | --- | --- | --- |
| Sleep | Ensemble | Sarah Cameron Sunde | Volvo Hall |
| The Tailor's Tale | Eva | Kim Bodnia | Victor Borge Theater |
2013

| | | | |
| --- | --- | --- | --- |
| Queen C | Friend | Joan Kane | Volvo Hall |
2012

| | | | |
| --- | --- | --- | --- |
| Midsummer's Eve at Tyrolen | Julie | Onur Karaoglu | Victor Borge Theater |
Unspecified Year

| | | | |
| --- | --- | --- | --- |
| Scenes and Revelations | Lead | | ADDA, NY |
| Shadow Box | Lead | | ADDA,NY |
| Fefu and Her Friends | Lead | | ADDA, NY |
Showreel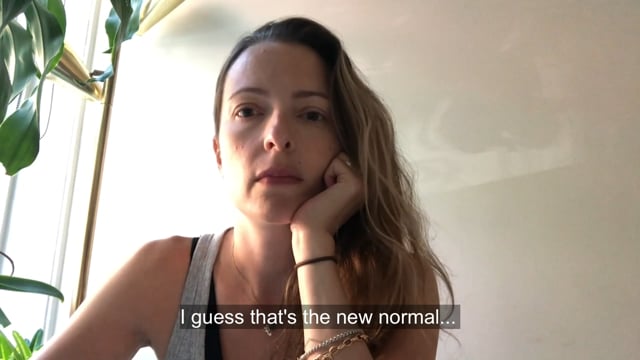 Scenes