Hair Color: BlondeEye Color: BlueHeight: 174
Education:The Robert Mello Studio: Meisner technique
Languages:Mother Tongue: DanishFluent in: English (standard American, British, Scandinavian, and Russian accent)Familiar with: German, Swedish, and Norwegian
Biography
Sisse Marie is a multiple platinum certified, Danish Music Award winning (equivalent to The Grammy), Danish born, recording artist, songwriter, and actress.
She began her career as a teenager winning the biggest singing competition for juniors on Danish National Television. This launched a long-standing music career with several number 1 hits, numerous platinum releases, and worldwide live tours.
But as a born entertainer, Sisse Marie realized her music career didn't fulfill her. Acting was her true passion and made her move to America in 2014. Many years of training, especially in the acknowledged Meisner technique and her experience in improv shows etc., elevated her even further.
Opportunities quickly opened up for Sisse Marie in her new career as an actress, and she has starred in several American movies and TV series, including the award-winning TV series "Siren" from 2020. In addition, she has 3 movies in post-production: the drama "The Last Play", the fantasy/science fiction "Wonderland Recoil", and the star-studded comedy "Meet the Blacks 2: The House Next Door".
Not only is Sisse Marie a wholehearted artist who is devoted to her passion, back in 2010 she was also certified as a psychotherapist.
Curriculum Vitae
Awards
2002
Danish Music Awards-'Best Teen Album'
Commercial
Unspecified Year

| | | | |
| --- | --- | --- | --- |
| Mulino Bianco | Lead | | National (Italy) |
| Vega | Lead | | National (USA) |
| Huawei | Principal | | International |
| Clash of Kings | Lead | | International |
| Loupe for Apple TV | Lead | | International |
| Libra Tone | Lead | | International |
| Vero Moda | Lead | | International |
| Pilgrimm | Lead | | International |
| Viriginia Black | Principal | | International |
| Citroën | Lead | | National (Denmark) |
| Volvo | Lead | | National (Italy) |
| Bradford Health | Lead | | Statewide (Alabama) |
Film
2022

| | | | |
| --- | --- | --- | --- |
| Rebel Moon | Supporting | Zack Snyder | International |
2021

| | | | |
| --- | --- | --- | --- |
| Meet the Blacks 2: The House Next Door | Supporting | Deon Taylor | Hidden Empire Film Group |
| The Last Play | Lead | Michel Constantin | |
2020

| | | | |
| --- | --- | --- | --- |
| Wonderland Recoil | Lead | Shaun Rana | Mad Boy Productions |
2018

| | | | |
| --- | --- | --- | --- |
| Let's Make It | Lead | Jason Winn | Pinch N' Ouch Theatre Productions |
2017

| | | | |
| --- | --- | --- | --- |
| The Dunning Man | Supporting | Michael Clayton | Dedalus Films |
Music
2012

| | | | |
| --- | --- | --- | --- |
| Kill For Your Love | Lead | Michael Sauer | Universal |
2011

| | | | |
| --- | --- | --- | --- |
| Dirty Hands | Lead | Michael Christensen | Sony |
2010

| | | | |
| --- | --- | --- | --- |
| Every Time | Lead | Michael Christensen | Sony |
2005

| | | | |
| --- | --- | --- | --- |
| Boom | Lead | Søren Bo Petersen | Warner |
Short films
2017

| | | | |
| --- | --- | --- | --- |
| HOP | Supporting | Darion D'Anjou | 1 Sick Rabbit Productions |
2016

| | | | |
| --- | --- | --- | --- |
| Nirvana | Lead | Nathan DuConge | Nathan DuConge |
Unspecified Year

| | | | |
| --- | --- | --- | --- |
| Second Thoughts | Lead | Joseph Lavender | |
Television
2020

| | | | |
| --- | --- | --- | --- |
| Thumb Runner | Guest Star | Dylan Bruno & Kasper Vejlø Kristensen | Eyelight Productions |
| Siren | Guest Star | | Freeform |
2015

| | | | |
| --- | --- | --- | --- |
| I'm a Celebrity...Get Me Out of Here! | Lead | | TV3/Viasat/Modern Times Group |
2013

| | | | |
| --- | --- | --- | --- |
| LA Hair | Guest Star | Gabriel Knight | We TV Network |
2007

| | | | |
| --- | --- | --- | --- |
| MTV Fusion Chart | Presenter | | MTV/Viacom |
2005

| | | | |
| --- | --- | --- | --- |
| Rundfunk | Guest Star | Dennis B. Dalmark | Koncern TV- og Filmproduktion |
2001

| | | | |
| --- | --- | --- | --- |
| Junior Eurovision Song Contest | Perfomer/Winner | | DR1/DR |
| Viva | Guest Star | | DR1/DR |
| The Music Store | Guest Star | | DR1/DR |
| Eurovision Song Contest | Performer | | DR1/DR |
Unspecified Year

| | | | |
| --- | --- | --- | --- |
| Boogie | Guest Star | | DR1/DR |
Showreel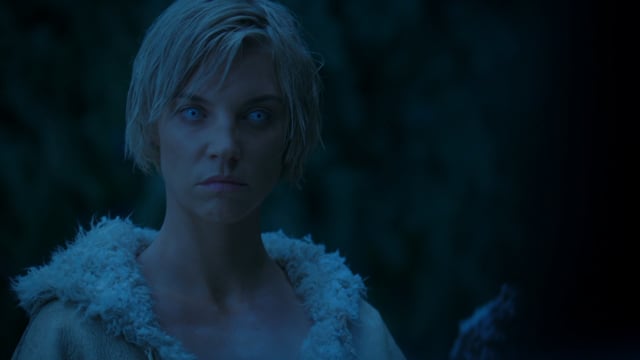 Scenes