Hair Color: BrownEye Color: Green/BlueHeight: 175Weight: 72
Education:The European Film College 2010/2011 - Acting course
Oure sports and performance College - 2011 - Theater course
Rødkilde Theater College - Spring 2012
Rødkilde Theater College - Autumn 2013
Australian Stunt Academy - 100 hours stunt course - 2012
Sensory training institute, Martin Spang Olsen - 2015-2018
Stunt & Stagefight Instructor for children - Education Martin Spang Olsen 2015-2018
Jill Massie - Voice Coach
Ivana Chubbuck MasterClass 2017
Dubbing course v. Vibeke Dueholm
Has been tutored by Thure Lindhardt, Henning Valin, Charlotte Munck, David Owe, Ken Vedsegaard -and Others 
Languages:Mother Tongue: DanishFluent in: EnglishFamiliar with: Swedish
Biography
Micki Stoltt is a highly dedicated actor.
His international breakthrough came in 2016 with the part of Dave Pearl in the series SURROGATE, an original series for Luc Besson's French/American platform BLACKPILLS. Micki has worked in Danish and Swedish productions as well, such as the Danish TV-series Gidseltagningen II.
Micki has been tutored for the last 7 years by Thure Lindhardt and has worked with numerous teachers and coaches, Ivana Chubbuck being one of them. Beyond that, he is a Graduate from the Australian Stunt Academy and is an educated Stunt & Stagefight Instructor.
When not taking the stage himself, he is a teacher for aspiring actors, working with Masks, Stunt & stagefight – and of course acting.
A very dedicated actor and a rising star for sure.
Curriculum Vitae
Commercial
2013

| | | | |
| --- | --- | --- | --- |
| Bibob - Always on | Guy getting haircut & table tennis opponent | Tore Frandsen | & Co.Productions |
| Talk about dementia | Boy leaving home, support | | Attention Film |
2011

| | | | |
| --- | --- | --- | --- |
| Bagsværd boarding school | Student, lead | Natasja Ramlow Lerche-Jensen | |
Film
2020

| | | | |
| --- | --- | --- | --- |
| Are We Lost Forever | Rasmus | David Färdmar | Färdmar Film |
Unspecified Year

| | | | |
| --- | --- | --- | --- |
| Connection | | | |
Film and television
2018

| | | | |
| --- | --- | --- | --- |
| Fiskeren VS. Rockeren | Niller | Mads Erichsen | Burning Films |
International TV
2016

| | | | |
| --- | --- | --- | --- |
| Surrogate - Blackpills series | Dave Pearl | Mateo Guez | Together Media 2 |
Short films
2019

| | | | |
| --- | --- | --- | --- |
| Roser er gule | Supporting | Aviaja Skotte | |
2018

| | | | |
| --- | --- | --- | --- |
| Kanin | Lead | Tanne Sommer | Tanne Sommer |
2017

| | | | |
| --- | --- | --- | --- |
| Mellem Linjerne | Supporting/Stunt Choreography | Martine Yde | |
| Midnight Snack | Lead | Tanne Sommer | Tanne Sommer |
| Agility | Oliver/supporting | Henrik Zammel | Broken Circle film |
2016

| | | | |
| --- | --- | --- | --- |
| A Horse Named Allan | Lead | Tanne Sommer | Tanne Sommer |
| Jesus and x-mas beer | Lead | Tanne Sommer | Tanne Sommer |
2015

| | | | |
| --- | --- | --- | --- |
| The Pub | Guy | | Københavns film og fotoskole |
| Last Round | Lead | Mikkel Schrøder-Christensen | Københavns film og foto skole |
2011

| | | | |
| --- | --- | --- | --- |
| Hypernation | Bear | Lasse Winther Jensen | European Film College |
| Ride into the night | Mike | Christina Ruloff | European Film College |
| Tales of the west | Man on cross | Tarjei Tandstad | European Film College |
| Retro Sacuela | Richard | Patrick Marcher | European Film College |
2010

| | | | |
| --- | --- | --- | --- |
| Gambler | Felix | Frederik Skov | European Film College |
Television
2020

| | | | |
| --- | --- | --- | --- |
| Hånd i Hånd / Couple Trouble | Sigurd | | Mastiff |
2019

| | | | |
| --- | --- | --- | --- |
| Gidseltagningen II / Below the Surface | William | Christian E. Christiansen | Sam Productions |
Theater
2013

| | | | |
| --- | --- | --- | --- |
| Affaldet, byen og døden | Franz | Lars Junggren | Teaterhøjskolen Rødkilde |
2012

| | | | |
| --- | --- | --- | --- |
| Temptation | Scientist | Johanne de Fine Licht | Rødkilde Theater College |
2011

| | | | |
| --- | --- | --- | --- |
| The Earth is | Michael | Niels Lund Boesen, Kitter Krebs, Peter Michaelsen | Oure Sports and Performance College |
Showreel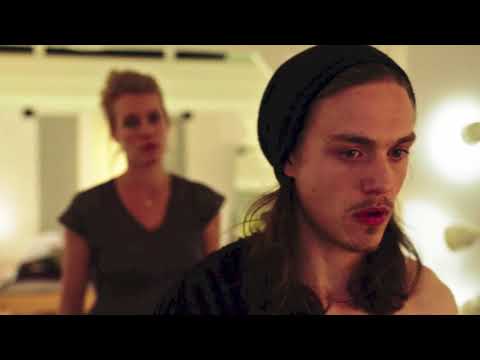 Connection
Voice Reel