Hair Color: BrownEye Color: Brown/GreenHeight: 160 CM
Languages:Mother Tongue: Danish, PolishFluent in: English, Germany, Italian
Biography
Gina Marchwinski is an experienced and team-playing actress, who played a wide range of characters on various stages in Denmark, including the Danish Royal Theatre. Gina has also starred in several short and feature films, not to mention several tv shows, – one of them as the Prime minister's secretary in the Danish award-winning hit show "Borgen".
Gina is born and raised in Denmark but comes from a polish Jewish background. So besides mastering the Danish language, Gina speaks Polish, English, and German and knows Italian.
This year some of Gina's credits include the rebellious Hodel in the musical "Fiddler on the Roof", the lead character, in the children's play "Mouse and Friends", and she acted as a last-minute standby for the role of Regine in the play "Ghosts" by Ibsen. Most recently she played the part of the Polish prisoner Izabella in the heartbreaking World War II film "Hvidstensgruppen II". She furthermore wrote, directed, and starred in her short film "1000 lives". Gina also works as a voice-over artist.
Gina's next upcoming projects include starring as the female lead in the stage production of Anders Thomas Jensen's infamous movie "Flickering lights". Gina recently had another project of her own picked up by a production company, which she will be writing, directing and starring in as the main character.
Curriculum Vitae
Film
2021

| | | | |
| --- | --- | --- | --- |
| Hvidstengruppen II - De efterladte | Izabella | Anne Grethe Bjarup Riis | Regner Grasten Film |
2014

| | | | |
| --- | --- | --- | --- |
| Klassefesten 2: Begravelsen | Maid | Mikkel Serup | Nordisk Film |
2007

| | | | |
| --- | --- | --- | --- |
| Uden for Kærlighed | Girl in class | Daniel Espinosa | Thura Film |
Short films
2021

| | | | |
| --- | --- | --- | --- |
| Thousand Lives | Vickys | Gina Marchwinski | Panorama Production |
2020

| | | | |
| --- | --- | --- | --- |
| Limonade | Kassandra | Sofiia Elvilde | Panorama Production |
| To glas hvidvin | Bartender | Mads M. Nielsen | Overlap Productions |
| Easy Iza | Izabella | Gina Marchwinski | Panorama Productions |
2019

| | | | |
| --- | --- | --- | --- |
| Mors datter | Roberta | Gina Marchwinski | KFFS |
2016

| | | | |
| --- | --- | --- | --- |
| Selvprotræt | Gina | Alexander Krumhausen | DDSKS Aarhus |
TV
2020

| | | | |
| --- | --- | --- | --- |
| 1 ud af 3 Knæk Cancer | Veninde | Tore Avlund Frandsen | TV2 |
| Min fars krig | Oise Munk | Martin Sundstrøm | DR |
| Kan man tænke sig rask | Healer | Johannes Fonnesberg | TV2 |
| Gulddamerne | Rozalia | Gina Marchwinski | F-film |
2018

| | | | |
| --- | --- | --- | --- |
| Et Juleeventyr | Rozalia | Gina Marchwinski | Postyr |
2016

| | | | |
| --- | --- | --- | --- |
| Bedrag II | Tjener | Kasper Munk | DR |
2015

| | | | |
| --- | --- | --- | --- |
| Instax mini | Pige | Ian N. Tonkins | Fujifilm |
2014

| | | | |
| --- | --- | --- | --- |
| Arvingerne | Journalist | Pernilla August | DR |
2013

| | | | |
| --- | --- | --- | --- |
| Borgen III | Partisekretær | Louise Freidberg mfl. | DR |
| Danish Dynamite II | Maria | Magnus Millang mfl. | TV2 |
Teater
2023

| | | | |
| --- | --- | --- | --- |
| Fattig | | Per Scheel-Krüger | Teater Masken |
2022

| | | | |
| --- | --- | --- | --- |
| Blinkende Lygter | Hanne/Terese | Frank Rubæk | Teater2, Nørregade Teater |
| Mus og venner | Mus | Kit Eichler | Ishøj Teater |
2021

| | | | |
| --- | --- | --- | --- |
| Gengangere | Regine (understudy) | Moqi Simon Trolin | Teater2 |
| Spillemand på en Tagryg | Hodel | Michael Lindvad | Nørregade Teater |
2020

| | | | |
| --- | --- | --- | --- |
| Lyslevende | Performer | | Det Andet Scenarie |
2019

| | | | |
| --- | --- | --- | --- |
| Digtning | Performer | Gritt Uldall-Jenssen | CPHstage |
2018

| | | | |
| --- | --- | --- | --- |
| Nike | Performer | Alex Hein | DKT |
| Brændende kærlighedsbreve | Performer | Natascha Thiara Rydvald | Bådteatret |
| Monicagate | Monica Lewinsky | Tamara Rugaard Mathiesen | Bådteatret |
| Indenfor murene | Diana, Esther (understudy) | Søren Iversen | Teater2, Nørregade Teater |
2017

| | | | |
| --- | --- | --- | --- |
| Porno | Performer | Anna Malzer | Teaterøen |
| Mahler Salon | Alma Mahler | Eva Maria Jensen | Husumvold Kirke |
| Festen | Michelle | Rolf Heim | Republique |
| Monicagate | Monica Lewinsky | Tamara Rugaard Mathiesen | Bådteatret |
| Eventyrenes Smagsrige | Snedronningen | Mette Martinussen | HCA festival |
2016

| | | | |
| --- | --- | --- | --- |
| Sidste diligence fra Lykkens By | Voksen Tiher Liliy mfl. | Anders Lundorph | Eventministeriet, DKT |
| Instruktør Lab | Skuespiller | Anna Malzer | Den Danske Scenekunstskole |
| Noget | Birgitte | Alex Hein | Teater Birgitte |
2015

| | | | |
| --- | --- | --- | --- |
| Falling Down | Beth | Anders Lundorph | Eventministeriet, DKT |
| Ugedage | Søndag | Alex Hein | Teater Birgitte, HCA festival |
| Vanvids blomster | Ofelia | Gina Marchwinski | SMK-Fridays |
| Dagens Kage er en Træstamme | Performer | Kirsten Delholm | Hotel Pro Forma |
2014

| | | | |
| --- | --- | --- | --- |
| Snedronningen | Røverpigen m.fl. | Martin Tulinius | Republique |
| Det kolde bord | Polsk arbejder Nicolai | Nicolai Louis Nyholm Nielsen | KMT |
| Tidsmisbrugerne | Gina | Morten Hembo | TeaterHuset |
| Amandaværelset | Dola | Anders Lundorph | Eventministeriet |
2013

| | | | |
| --- | --- | --- | --- |
| Processen | Titorelli-pige | Martin Tulinuis | Republique |
| Frokost i det grønne | Performer | Martin Tulinius | Republique |
| Snedronningen, åbne laboratorium | Performer | Martin Tulinuis | Republique |
Showreel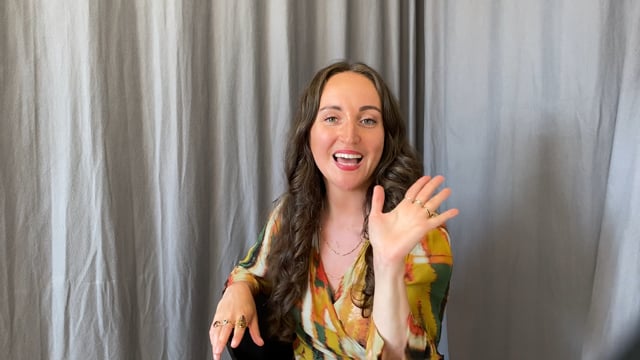 German presentation