Hair Color: Light blondEye Color: Grey-blueHeight: 182Weight: 73
Education:Guvernor Dummer Summer Academy, MA USA 1993 and 1994. Odense National Theatre School of Denmark, 1994-98.
Languages:Mother Tongue: English, GermanFamiliar with: French
Biography
Thure Lindhardt is one of the most critically acclaimed Danish actors of his generation. He possesses a rare ability to combine his innocent and delicate appearance with a dangerous and sinister psyche. He began his career at the age of 12, where he played the role of a classmate in Bille August's film, 'Pelle the Conqueror', which won the Palme d'Or at the Cannes Film Festival and the Academy Award for 'Best Foreign Language Film' in 1987. Thure continued his training at the Odense Theatre School and in 1998 was named the recipient of the 'Reumert Award' for 'Best New Talent' for his professional debut in 'Shopping and Fucking' at Café Teatret that same year. Thure was a supporting role in DR1's 'Edderkoppen', and in the Lars von Trier-produced family saga, Morten Korch's 'Ved Stillebækken'.
Lindhardt garnered international acclaim, including a 'Best Actor' nomination at both the 'Bodil' Awards and the 'Robert' Festival for his lead role as 'Brian', an autistic boy suspected of murder, in 'A Place Nearby', which was featured in the official selection at the 50th Berlin Film Festival, where Thure was also named 'Shooting Star'.
Thure has since appeared in such films as 'Angels in Fast Motion' for which he won the 'Robert' award, and 'Flame & Citron' for which he received nominations 'Best Actor in a Lead Role' both at the 'Robert' awards and the 'European Film Awards' together with Mads Mikkelsen. Thure had his first American role in Sean Penn's 'Into the Wild', and soon after in Ron Howard's 'Angels & Demons'. At the Berlin Film Festival in 2012, the American indie film 'Keep The Lights On' won the 'Teddy' Award. The film had its world premiere at Sundance this year, and both Thure and the film received tremendous reviews in America. Thure was the lead role opposite American actor Zach Booth. The film was directed by Ira Sachs, and was also selected for festivals such as Tribeca, San Francisco, Torino and CphPix, where Thure's lead role in Eddie – the sleepwalking cannibal- also screened. On the 21st of May, the TV series 'The Spiral' had its world premiere. Thure was one of the six lead roles. A co-production between Denmark, Norway, Sweden, Finland, Holland and Belgium, and each country has their actor represented in a leading role. 'The Artist' was the TV series' working title. The shootings took place in Brussels and Copenhagen, during which Thure also worked in Dublin in a major supporting role in the Oscar-winning director Neil Jordan's upcoming vampire film 'Byzantium'. Thure also worked in Germany, starring in the highly talked about feature film '3096', which is the film version of Natasha Kampbush's biography of her kidnapping and captivity in a cellar for exactly 3,096 days before she managed to escape. Thure starred against British actress Antonia Campbell-Hughes.
Curriculum Vitae
Awards
2013
Winner of: Teater Pokalen, Best actor in a lead role at the theater
2011
Nominated: Lauritzen Prisen
2010
Nominated: Zulu Awards, Best leading Actor, 'Sandheden om mænd'
2008
Nominated: The Danish Academy Award, Robert, Best leading Actor, 'Flame & Citron'
Nominated: The Danish Critics Award, Bodil, Best leading Actor , 'Flame & Citron'
Nominated: The European Film Awards, Best leading Actor , 'Flame & Citron'
2006
Nominated: The Danish Critics Award Bodil for Best leading Actor , 'Angels in fast Motion'
Winner of: The Danish Academy Award, Robert, Best supporting Actor, 'Angels in fast Motion'
2001
Nominated: The Danish Critics Award, Bodil, Best leading Actor, 'A Place Nearby'
Nominated: The Danish Academy Award, Robert, Best leading Actor, 'A Place Nearby'
2000
Receiver of: The Reumert Talent Award
Winner: Shooting Star, Berlin Filmfestival
Unspecified Year
Member of European Film Academy
Dubbing / Voice over
2018

| | | | |
| --- | --- | --- | --- |
| Hodja fra Pjort | Lead - Hodja | Karsten Kiilerich | M&M Productions |
2012

| | | | |
| --- | --- | --- | --- |
| Gummi T | Ivan Olsen | Michael Hegner | Crone Film |
2011

| | | | |
| --- | --- | --- | --- |
| Orla Frøsnapper | Victor | Peter Dodd | Crone Film |
2006

| | | | |
| --- | --- | --- | --- |
| Princess | August | Anders Morgenthaler | Zentropa Entertainments |
2004-2005

| | | | |
| --- | --- | --- | --- |
| The Fairytaler | Various Voices | | Egmont Imagination |
2004

| | | | |
| --- | --- | --- | --- |
| De Utrolige / The Incredibles | Buddy Pine / Syndrom | Brad Bird | Pixar Animation Studios / Walk Disney Pictures |
2003

| | | | |
| --- | --- | --- | --- |
| Jungledyret Hugo | Various | | TV2 |
Film
2019

| | | | |
| --- | --- | --- | --- |
| Flammen over Jølster | Lead - Nikolai Astrup | Pål Øie | Handmade films in Norwegian woods |
2018

| | | | |
| --- | --- | --- | --- |
| In Love and War | Hansen | Kasper Torsting | Fridthjof Film |
2017

| | | | |
| --- | --- | --- | --- |
| Light Thereafter | Piri | Konstantin Bojanov | Film and Music Entertainment (F&ME) |
2013

| | | | |
| --- | --- | --- | --- |
| 3096 - Kampbush | Lead | Sherry Hormann | Constatin Film |
| Byzantium | Supporting | Neil Jordan | Demarest Films |
2012

| | | | |
| --- | --- | --- | --- |
| Formentera | lead | Ann-kristin Reyels | Una-Film |
| Eddie: The Sleepwalking Cannibal | Lead | Boris Rodriguez | Fridthjof Film |
2011

| | | | |
| --- | --- | --- | --- |
| The Island | Lead | Kamen Kalev | Film i Västerbotten |
2010

| | | | |
| --- | --- | --- | --- |
| Brotherhood | Lead | Nicolo Donato | ASA Film |
| Sandheden om mænd | Lead | Nikolaj Arcel | Zentropa Productions |
| The Wild Swans | Prins Albrecht | Ghita Nørby & Peter Flinth | JJ Film |
2009

| | | | |
| --- | --- | --- | --- |
| The Christmas Party | Frans | Rasmus Heide | Fridthjof Film |
| Angels and Demons | Supporting | Ron Howard | Columbia Pictures |
2008

| | | | |
| --- | --- | --- | --- |
| Take the Trash | Lead | Rasmus Heide | Fridtjorf Film |
| Little Soldier | Supporting | Annette K. Olesen | Zentropa Production |
| Flame and Citron | Lead | Ole Christian Madsen | Nimbus Film |
| Reise nach Amerika | Supporting | Verena Mundhenke | KHM |
2007

| | | | |
| --- | --- | --- | --- |
| Into The Wild | Supporting | Sean Penn | Paramount |
| Pistoleros | Krelle | Shaky González | MA Productions |
| Daisy Diamond | Supporting | Dir. Simon Staho | Zentropa Production |
2005

| | | | |
| --- | --- | --- | --- |
| Angels in Fast Motion | Steso | O.C. Madsen | Nimbus Film |
| Restless Souls | Supporting | Martin Smith | Wise Guy |
2004

| | | | |
| --- | --- | --- | --- |
| Love in Thoughts | Lead | Achim von Borries | X-Filme, Germany |
| Was nützt die Liebe in Gedanken | Hans | Achim von Borries | X-Filme Creative Pool |
| Farland | Supporting | Mickael Klier | Zero Film |
2002

| | | | |
| --- | --- | --- | --- |
| Slim, Slam, Slum | Lead | Ballaren Bros | Zentropa Productions |
| One Hell of a X-mas | Lead | Shaky Gonzales | Wise Guy, DK/AUSAprod. in DK |
| El Cocinero | Lead | Shaky Gonzales | Wise Guy |
| Nude descending | Lead | C.S. Leigh | Parallel Pictures, UK/Franceprod. in Brussels |
2001

| | | | |
| --- | --- | --- | --- |
| Far From China | Supporting | C.S. Leigh | Parallel Pictures, prod. In UK |
2000

| | | | |
| --- | --- | --- | --- |
| Juliane | Supporting | Hans Kristensen | Per Holst Film |
| A Place Nearby | Lead | Kaspar Rostrup | Nordisk Film |
1987

| | | | |
| --- | --- | --- | --- |
| Pelle the Conqueror | Supporting | Bille August | SF Films |
| Negerkys og labre larver | Postbud | Li Vilstrup | Metronome Productions |
Film in USA
2016

| | | | |
| --- | --- | --- | --- |
| Kill Command | Bukes | Steven Gomez | Vertigo Films |
2015

| | | | |
| --- | --- | --- | --- |
| Despite the Falling Snow | Dimitri | Shamim Sarif | Faling Snow Ltd. |
2013

| | | | |
| --- | --- | --- | --- |
| Fast & Furious 6 | | Chris Morgan | Universal Pictures |
2012

| | | | |
| --- | --- | --- | --- |
| Byzantium | | Neil Jordan | |
| Keep the Lights On | Lead | Ira Sachs | Ira Sachs, Lucas Joaquin,Marie Therese Guirgis. |
2011

| | | | |
| --- | --- | --- | --- |
| Angels & Demons | Chartrand | Ron Howard | Sony |
2008

| | | | |
| --- | --- | --- | --- |
| Into The Wild | Mads | Sean Penn | Paramount Vintage |
Short films
2019

| | | | |
| --- | --- | --- | --- |
| Hollow Hearts | Carl | Emilie Marloth Frøkjær | The Danish Filmschool |
2017

| | | | |
| --- | --- | --- | --- |
| The Dolphin | Peter | Laurits Munch-Petersen | M&M Productions |
2008

| | | | |
| --- | --- | --- | --- |
| Closed Doors | Lead | Jonas Poher Rasmussen | |
| The Duality of Love | Emil | Barbara Topsøe-Rothenborg | Framework Films |
2006

| | | | |
| --- | --- | --- | --- |
| Korridorerne | Ung mand | Morten Schjødt | Oncotype ApS |
2003

| | | | |
| --- | --- | --- | --- |
| Bondefanger | Thomas | Esben Larsen | Det Danske Filminstitut |
2002

| | | | |
| --- | --- | --- | --- |
| Kokken | Henrik | Shaky González | Dansk Novellefilm |
| Debutanten | Laertes | Christian Tafdrup | DR |
2001

| | | | |
| --- | --- | --- | --- |
| Alt andet blev pludseligt totalt ligegyldigt | Supporting | Esben Larsen | Det Danske Filminstitut |
2000

| | | | |
| --- | --- | --- | --- |
| Bånd på livet | Modedesigner | Annette K. Olesen | DR |
1998

| | | | |
| --- | --- | --- | --- |
| Pieces | René | Poul Erik Madsen | Storyville Visual Communication ApS |
Television
2017

| | | | |
| --- | --- | --- | --- |
| The Last Kingdom | Guthred | | Carnival Film & Television / Netflix |
2015-2018

| | | | |
| --- | --- | --- | --- |
| The Bridge 3 | Lead | Rumle Hammerrich | Filmlance/DR |
2011

| | | | |
| --- | --- | --- | --- |
| Liebe Am Fjord - Das Ende Einer Eiszeit | Henrik Sörenbrandt | Jörg Grünler & Matthias Tiefenbacher | Studio Hamburg Filmproduktion |
2010

| | | | |
| --- | --- | --- | --- |
| Alles Liebe | Baptiste | Kai Wessel | Allmedia Pictures GmbH |
| Das Duo - Bestien | Tim Stein | Christian Görlitz | |
2009/2015

| | | | |
| --- | --- | --- | --- |
| Tatort - Architektur Eines Mordes | Paul Goebels / Charlie | Titus Selge | Fernsehfilm |
2009-2010

| | | | |
| --- | --- | --- | --- |
| Blekingegade Banden | Bo Weiman | Jacob Tuesen | Zentropa Productions |
2009

| | | | |
| --- | --- | --- | --- |
| Nachtschicht | Rudi Kasper | Lars Becker | Network Movie |
2006

| | | | |
| --- | --- | --- | --- |
| Sugar Rush | Supporting | Various | Shine/Channel 4, UK |
2003

| | | | |
| --- | --- | --- | --- |
| Skjulte spor | Lukas | | Nordisk Film |
| Defense | Supporting | Morten Arnfred | Nordisk Film |
2002

| | | | |
| --- | --- | --- | --- |
| Unit 1 | Supporting | Martin Smith | Danish National TV |
2000

| | | | |
| --- | --- | --- | --- |
| Morten Korch - Ved stillebækken | Hans Købke | | Zentropa Entertainments |
| Silents Water | Supporting | Lone Scherfig | Zentropa/ Danish National TV2 |
| The Spider | Supporting | Ole Christian Madsen | Danish National TV |
1998

| | | | |
| --- | --- | --- | --- |
| Strisser på Samsø | Hansi | | Per Holst Filmproduktion |
Theater
Unspecified Year

| | | | |
| --- | --- | --- | --- |
| Noway.Today | Lead | Kim Bjarke | Husets Theatre |
| Hamlet | Lead | Lars Engel | Kronborg Castle, Summer 2004 |
| Shopping and F**king | Lead | Alexa Ther | Café Theatre |
| Hamlet | Lead | Kaspar Rostrup | Gladsaxe New Theatre |
| Crime and Punishment | Rodion Raskolnikov | Rune David Grue | The Royal Theatre |
| La Dame aux Camelies | Lead | Flemming Enevold | Gladsaxe Theatre |
| The Screamers | Lead | Ole Bornedal | Aveny-T |
| Anthony and Cleopatra | Lead | Claus Hoffmeyer | The Royal Theatre |
| Strange Interlude | Supporting | Jan Maagaard | The Royal Theatre |
| Cleansed | Supporting | Jan Maagaard | The Royal Theatre |
| Aladdin | Lead | Flemming Enevold | Ulvedalenes Theatre |
| CI-VI-LI-SA-TION | Lead | Alexa Ther | The Royal Theatre |
| Elton Johns Glasses | Supporting | Christoffer Bro | Mungo Park Theatre |
| Scenes from a Century | Lead | Henrik Sartou | Gladsaxe Theatre |
| Natsværmer | Lead | Christoffer Berdal | Mammut Theatre |
| The Brothers Karamazov | Lead | Kim Bjarke | The Royal Theatre |
Showreel
The Bridge 3
Eddie: The Sleepwalking Cannibal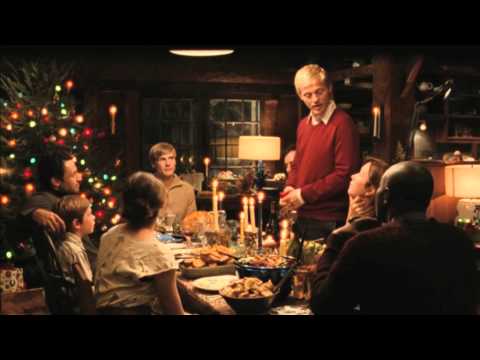 Keep the Lights On
Brotherhood
Blekingegade Banden
Angels and Demons
Flame and Citron
Into The Wild
Daisy Diamond
Angels in Fast Motion
Press
Scenes