Hair Color: BrownEye Color: BlueHeight: 179Weight: 81
Education:San Fransisco Dance Theatre ,
Drama Studio London
Languages:Mother Tongue: NorwegianFluent in: English, ItalianFamiliar with: Swedish, Danish, French
Biography
Working actor in theatre, musical and screen, after working as a ballet and contemporary dancer for years.
Gundersen had been nominated for best actor in a comedy, Norway, 2015. He had been in multiple international productions including his supporting role in "Monster" NrkDrama nordic noir series release fall 2017, being shown on Starz in the USA.
Last year, Gundersen performed in hit musical "Book of Mormon" in Oslo.
Curriculum Vitae
Commercial
2017

| | | | |
| --- | --- | --- | --- |
| Toro | Dad | Mathis Furst | Try |
Dubbing / Voice over
2015

| | | | |
| --- | --- | --- | --- |
| Knutsen & Ludvigsen og den fæle Rasputin | Rasmus A. Sivertsen, Rune Spaans | | Tordenfilm AS |
Film
2014

| | | | |
| --- | --- | --- | --- |
| Verden venter | Thomas | Mariken Halle | |
2008

| | | | |
| --- | --- | --- | --- |
| Varg Veum - Begravede hunde | Anders Larsen | Alexander Eik | Miso Film |
2005

| | | | |
| --- | --- | --- | --- |
| Import eksport | Nicolay | Ulrik Imtiaz Rolfsen | Filmhuset |
2003

| | | | |
| --- | --- | --- | --- |
| Buddy | Steinar | Morten Tyldum | Happy Endings A/S |
Short films
1991

| | | | |
| --- | --- | --- | --- |
| Bauta i tonar | Dancer | Terje Dale | NRK Hordaland |
1987

| | | | |
| --- | --- | --- | --- |
| Gatelangs | Petter | Aage Aaberge | Motlys Film- og TV-produksjon |
Television
2020

| | | | |
| --- | --- | --- | --- |
| Livstid | Fengselspsykiater | | Monster Scripted AS |
2019

| | | | |
| --- | --- | --- | --- |
| Henrik Uber Alles | Frank | | Nordisk Film / TV AS |
2018

| | | | |
| --- | --- | --- | --- |
| Semester | Lars Kunde | | Curry Film |
| Home Ground | Football union excecutive | Arild Andresen | NRK |
2017

| | | | |
| --- | --- | --- | --- |
| Monster | Ross Eriksen | Anne Sewitsky | NRK |
2016

| | | | |
| --- | --- | --- | --- |
| Mammon | Oljeforvalter | Yanick Heen | NRK |
2014

| | | | |
| --- | --- | --- | --- |
| Lilyhammer | Yoga Instructor | | Rubicon TV AS |
| Kampen for tilværelsen | Sykkelmann | Marit Moum Aune | NRK / HBO |
| Side om side | Freddy | | NRK |
2012

| | | | |
| --- | --- | --- | --- |
| Nattskiftet | Hans | Monster Film | |
2011

| | | | |
| --- | --- | --- | --- |
| Taxi | Tom A. Pettersen | Ulrik Imtiaz Rolfsen | NRK |
2003-2004

| | | | |
| --- | --- | --- | --- |
| Hotel Cæsar | Ivan Petrovich | | TV2 Norge |
Showreel Monster Mammon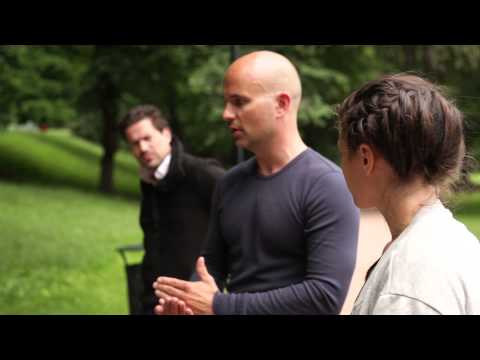 Verden venter
Scenes