Biography
Costa Ronin's journey in the world of entertainment has been nothing short of remarkable. Born and raised on the West Coast of Russia, he embarked on his acting career at the tender age of five moved through theater and radio entertainment learning from Russian and international masters until his talent and passion for the craft led him to a global stage.  
In 1996, Costa made a significant move to New Zealand, where he continued to hone his acting skills. Later, in 2001, he relocated to Australia, becoming an integral part of their vibrant acting scene.  
Notably, Costa also graced the big screen in Quentin Tarantino's "Once Upon a Time in Hollywood,"
sharing the screen with stars like Leonardo DiCaprio, Brad Pitt, and Margot Robbie, making him the first and only Russian actor ever to have worked with the master.
He is set to captivate audiences once again in the upcoming Netflix series "Obliterated.
Costa's recent accomplishments include a memorable appearance on the NBC series "Endgame," directed by the talented Justin Lin of the "Fast and Furious" fame amongst others.
His television credits also include starring roles in acclaimed shows like "The Americans" on FX Network and "Homeland" for Showtime. On the comedy side, he showcased his prowess opposite Jenna Fischer and Oliver Hudson in the ABC comedy "Splitting Up Together." Keep an eye out for Costa in the independent feature "ISS," where he stars alongside Chris Messina, debuting at the prestigious Tribeca Film Festival.
In a significant crossover, Costa became part of the Marvel Cinematic Universe as 'Anton Vanko' in "Agent Carter." The following year, he ventured into the DC Comics Universe, portraying 'Luka Volk' in "Gotham," a remarkable feat of acting in both Marvel and DC worlds. Costa's diverse film credits encompass projects like "The Body Tree" and "Brighton Beach," produced by Molly Connors of "Birdman" fame. He also made appearances in series like "Scorpion," "Agent X" alongside Sharon Stone, and Guillermo del Toro's hit series "The Strain." 
Curriculum Vitae
Film
2023

| | | | |
| --- | --- | --- | --- |
| I.S.S | Nikolai Pulov | Gabriela Cowperthwaite | |
2019

| | | | |
| --- | --- | --- | --- |
| Once Upon a Time in Hollywood | Voytek Frykowski | Quentin Tarantino | |
2018

| | | | |
| --- | --- | --- | --- |
| Brighton Beach | Vadim | David Gutnik | |
2017

| | | | |
| --- | --- | --- | --- |
| The Body Tree | Sergei | Thomas Dunn | |
2011

| | | | |
| --- | --- | --- | --- |
| Red Dog | Dzambaski | Kriv Stenders | |
2010

| | | | |
| --- | --- | --- | --- |
| Anyone You Want | Igor | Campbell Graham | |
2006

| | | | |
| --- | --- | --- | --- |
| Fatal Contact: Bird Flu in America | Russian Correspondent | Richard Pearce | |
| The Last Resort | Constable Lawsov | David Farrell | |
Film and television
2023

| | | | |
| --- | --- | --- | --- |
| Obliterated | Ivan Koslov | | Netflix |
2022

| | | | |
| --- | --- | --- | --- |
| The End Game | Sergey Vodianov | | NBC |
2018-2020

| | | | |
| --- | --- | --- | --- |
| Homeland | Yevgeny Gromov | | Showtime |
2018

| | | | |
| --- | --- | --- | --- |
| The Americans | Oleg Burov | | FX |
| Splitting Up Together | Vladislav | | ABC |
2017

| | | | |
| --- | --- | --- | --- |
| Shooter | Russian Ambassador | | USA Network |
2016

| | | | |
| --- | --- | --- | --- |
| The Strain | Alexei Voronsky | | FX |
| Gotham | Luka Volk | | FOX |
2015

| | | | |
| --- | --- | --- | --- |
| Agent X | Misha Voronsky | | TNT |
| Agent Carter | Anton Vanko | | ABC |
2009

| | | | |
| --- | --- | --- | --- |
| East West 101 | Gregorovich | | SBS One |
Showreel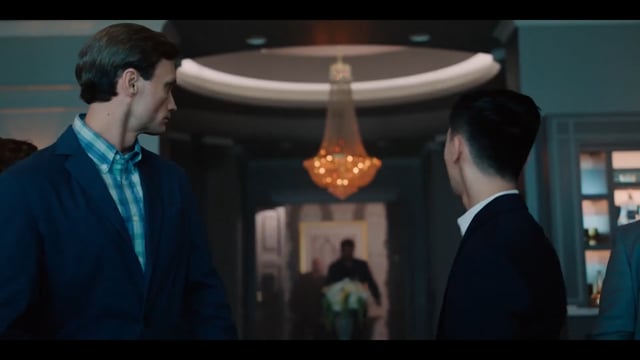 Obliterated